W.J. Astore
A distinctly American sentiment
"Honk if you like guns" is on a message board outside a local gun range. It's a distinctly American sentiment. Since this country has over 400 million guns of various sorts and calibers in circulation, it's a safe bet that America does indeed "like" guns. And that's not a liking you're encouraged to keep to yourself, hence the encouragement to "honk" as you drive past to advertise full throttle your affection for them.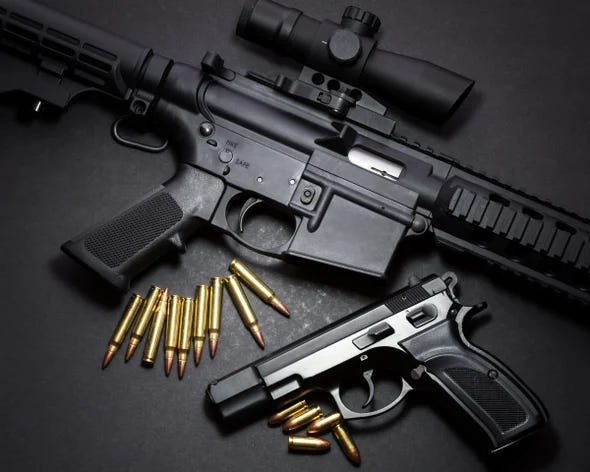 As I wrote a decade ago, "weapons 'r' us." America, the so-called arsenal of democracy during World War II, is now often simply an arsenal. Guns are expensive and life is cheap. And we literally export that sentiment as America dominates the international trade in arms of all sorts, everything from F-35 jet fighters to M-1 tanks to the humblest of bullets. Indeed, we're buying so many guns in America there's even a shortage of those humble bullets.
Americans believe they are unsafe; Americans are also less than happy and are the world's best customers for anti-depressants, and happiness is a warm gun, as John Lennon wrote.
There is considerable psychic distress in our country, and no wonder. The police video released yesterday of the beating of Tyre Nichols during a routine traffic stop is more than disturbing. A helpless man lies on the ground as police surround him, kicking and hitting him repeatedly. "Savage" is a good descriptor for the beating he took, after which it took nearly half an hour for an ambulance to arrive to render medical aid. Tyre Nichols died in a hospital three days later.
I know it's an odd juxtaposition: the "honk if you like guns" sentiment and the (alleged) murder of Tyre Nichols by five (or more) police officers in Memphis. Maybe they have little in common, except, perhaps, a liking for violence and the potential of deadly force.
And so, to change the subject, I keep hearing the best way to help Ukraine is to send them more weapons so their armed forces can kill more Russians. It's a war, after all, and tanks are needed more than talks. Putin only understands one language, the language of murderous violence, and he must be stopped so send Ukraine whatever its military officials request because we can trust them to know best.
And I begin to wonder, which country truly knows the language of murderous violence best? Which country has more mass shootings than any other? Which country spends more on wars and weaponry, has more of its citizens in prison, has more military bases, exports more weaponry around the world, than any other?
Honk if you like guns — it's a sentiment that says much about our American moment.