W.J. Astore
Wars Destroy, They Don't Create
For various reasons, America's ruling class has a great love of war, even as America's non-ruling-classes have a general indifference to it, as long as its destructiveness is kept overseas and out of sight.
It's strange indeed that we have such faith in war: such faith in destruction as being progressive. Americans are a hyper-aggressive and trigger-happy bunch, quick to anger, slow to think. Fear, anger, and pride make us a menace to various peoples on the receiving end of American firepower, yet somehow we see ourselves as reasonable peacemakers. Such a mass delusion can only be sustained through massive propaganda, a "victory culture" if you will, supported by all those Hollywood war movies, TV shows featuring SEALs and the like, military pageantry at sporting events, and so on.
Speaking of the military and sports, day 2 of the NFL draft opened with an array of military personnel in dress uniform on the big stage in Kansas City as fans broke into "USA! USA!" chants. Yes, I understand there are a lot of football fans in the military, and I'm sure there were more than a few service members and veterans in civvies in the audience. Yet, ask yourself: What are military members in uniform doing on the stage at the NFL draft? What role are they playing?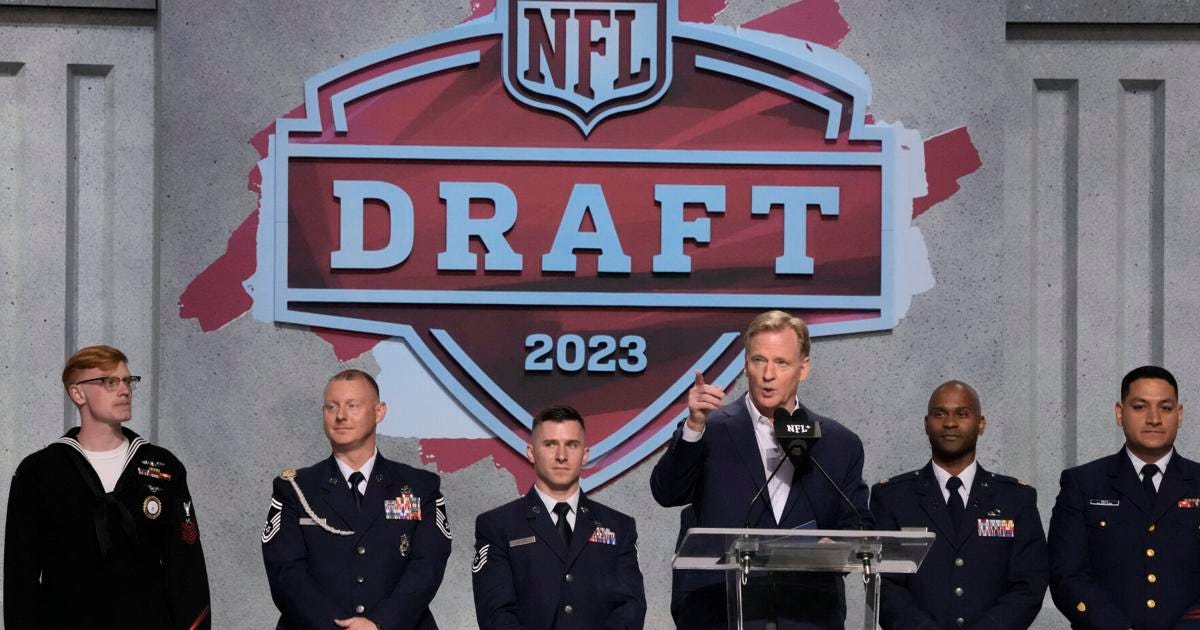 The answer is obvious. The military uses sports to help with recruiting, and the NFL uses the military to burnish its patriotic image. It's supposed to generate feel-good moments for the live audience there and all the millions watching at home, but it just left me shaking my head at the opportunism and cynicism of both the NFL and the Pentagon.
Speaking again of the NFL draft, it's curious how each team has a draft room of experts that is sometimes referred to as a "war" room. The NFL loves its military metaphors and its "warrior" players featuring quarterbacks with "howitzers" for arms who throw "missiles" downfield.
I've never been keen on the whole "warrior" mystique because I find it in direct opposition to the citizen-soldier ideal of America's founders. America was not supposed to have a "warrior" caste like the British had, occupied by the second sons of the aristocracy who had nothing better to do than to wage colonial and imperial wars overseas in the cause of plunder and profit. But the warrior ideal has been all the rage in the U.S. military since the collapse of the Soviet Union, and especially since 9/11.
In a recent article for TomDispatch, Joshua Frank cited just such a sentiment (from 2007) by a troop suffering from Gulf War Syndrome: "I'm a warrior, and warriors want to fulfill their mission."
This mentality that they're mission-driven warriors has been drilled into U.S. troops. But our troops are supposed to be loyal to the U.S. Constitution, not to the mission. If you're simply a warrior, you exist for war, full stop. You're no longer a citizen-soldier (or citizen-airman, etc.). You're not really a citizen at all. Warriors are disposable, simply grunts, so who cares what happens to them? You live by the sword, you die by it, end of story.
I wish more people recognized the danger and implications of this warrior mentality.
Finally, a couple of recent articles to consider. Chris Hedges writes about the enemy within, America's vast military-industrial complex, that is sucking the life out of what's left of American democracy. And Caitlin Johnstone writes about how America's aggressive and imperial presence is always advertised and disguised as "defensive" in nature. Both articles are worth reading as an antidote to all the reflexive "USA! USA!" war chants.