W.J. Astore
This Veterans Day, instead of thanking vets, ask instead how they're doing
I served in the U.S. military for twenty years. It was the prime of my life, and I got a great education courtesy of you the American taxpayer. In the Air Force, I was a developmental engineer when I wasn't teaching history (long story), and I never had to endure bullets and bombs and IEDs in a combat zone, for which I'm grateful. I really consider it an honor to have served, a privilege, because we in the military take an oath to the U.S. Constitution and to the high ideals that document represents.
So I'm always a bit surprised when someone thanks me for my service. I feel like saying, please don't thank me, but thank you for putting your trust in me, for allowing me to serve and to uphold our nation's highest ideals. The nation placed its special faith and trust in me, so thanks for doing that.
Of course, I say nothing like that in reply. What I typically say is "You're welcome," and then I move on. I don't tell people: Please, don't thank me, because that would be rude. My experience is that people want to thank me for sincere if sometimes vague reasons, and that's OK with me. It's not the time to launch into a diatribe about the military-industrial-Congressional complex or war crimes or imperialism. I have my blog for that. (Smile.)
Sometimes, though, I think thought (and responsibility) begins and ends with "thank you for your service." For some people, it means something like this:
Thank you for your service — so I don't have to think about your service and America's many wars — and so I don't have to think about my loved ones having to serve and kill and die in them.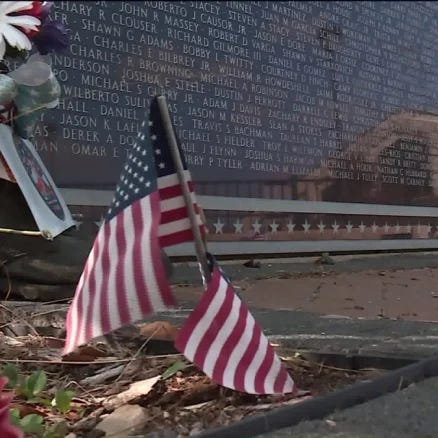 Veterans Day started as Armistice Day, a solemn occasion to mark the end of massive bloodletting in World War I and a return to normalcy, i.e. peace. It was supposed to be the war to end all wars; the armistice on 11 November 1918 was idealistically thought to be the beginning of eternal peace. Today, "peace" is a word you almost never hear in American political discourse. Our new normal is war, which is just about the most horrible thought I could write about U.S. society and culture today.
Why? Partly because veterans often pay "an intolerable price" for their awful experiences in war, notes Kelly Denton-Borhaug at TomDispatch. That's why most combat veterans don't want to talk about their experiences, especially with civilians. They'd rather forget, yet it's so hard to forget or even to forgive yourself when your mind has been scorched by the fires of war.
And it's not just veterans who pay the price of endless war. Young people turning 21 today have never known a time when America hasn't been at war with somebody somewhere. They've never known a time when massive military budgets were considered abnormal. They've never known, in a word, peace.
So, instead of thanking veterans for their service today, perhaps you should simply ask them how they're doing. Be ready to lend a sympathetic ear, or a helping hand, if they admit to feeling "not so well."
Thank you for doing this. Thank you for your service.