W.J. Astore
Zelensky is no Chamberlain; talking is not appeasement
A fascinating aspect of the Russia-Ukraine War is the argument that negotiation would be unwise, especially if Ukraine were to initiate it. Typical arguments include that you can't negotiate with a dictator like Putin, that negotiation would be a sign of weakness and would somehow reward Putin for his invasion, and that negotiation is ipso facto appeasement that would lead to further (and much wider) Russian attacks. All these arguments are faulty.
First, my pro-Ukrainian friends tell me that Ukraine is winning the war and therefore resolution will come with total victory at the front.  Perhaps so, but fortunes of war often prove fickle.  If indeed Ukraine has a winning edge, what better time to negotiate?  It's always preferable to negotiate from a position of strength, so now is the time, assuming Putin is amenable.  What's to be lost by asking?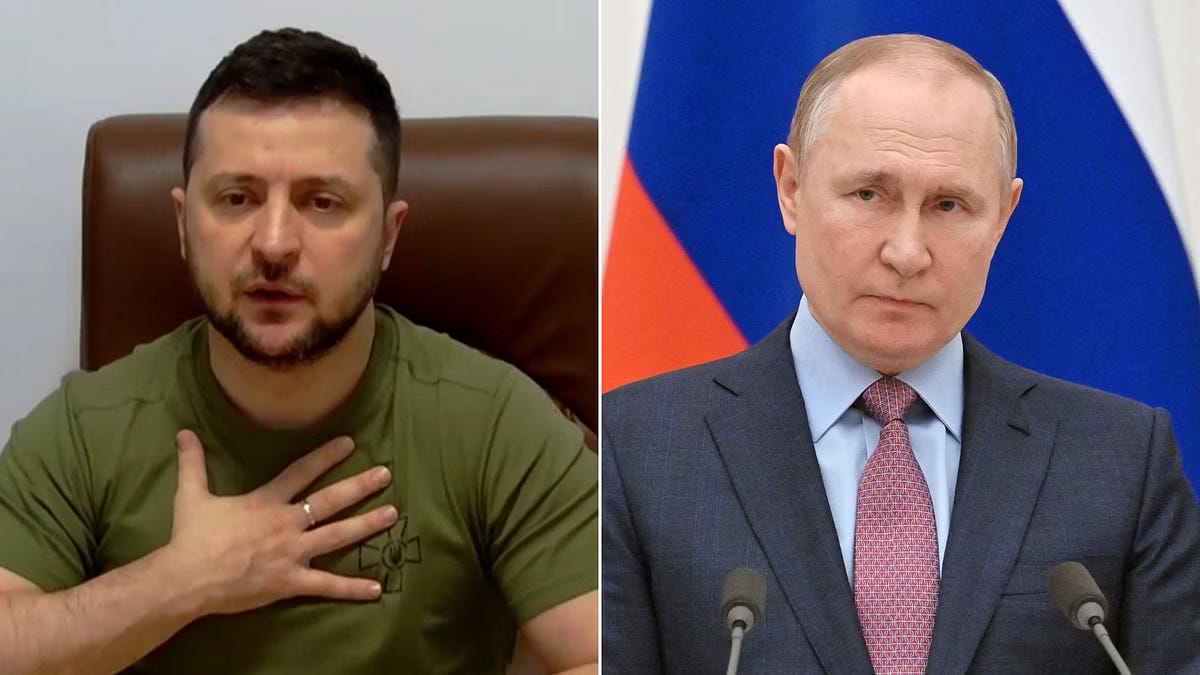 Second, negotiation, again from a position of strength, is the very opposite of appeasement. When Neville Chamberlain infamously negotiated with Adolf Hitler in 1938, he was doing so from a position of relative weakness. Nazi Germany was rearming and mobilizing for World War II, and Great Britain and its allies were very much behind. Hitler, of course, lied that territory in Czechoslovakia was his "last demand," but few in the know were truly fooled about the danger Hitler and the German military represented. Still, Chamberlain hoped that a viable treaty to prevent war was possible, even as Britain and its allies began in earnest to prepare for war as the "peace" deal was being struck.
Interestingly, Hitler didn't see Chamberlain's "appeasement" as a victory. He was livid. Hitler wanted to go to war in 1938. The deal Hitler struck delayed his attack on Poland until September of 1939. By the time Germany attacked Britain and France in May of 1940, the British were better prepared, materially and mentally, to resist Hitler. (The shockingly quick fall of France is another story entirely.)
One could argue that Chamberlain's failed appeasement delayed Hitler's war plans to an extent that ultimately favored eventual allied victory. Hitler was, after all, decisively defeated five years after he launched his invasion of France. And, after Hitler betrayed his promises to Chamberlain, there was no doubt whatsoever among the allies that military victory was the only way to end the Nazi threat.
My point is that even Chamberlain's dreadful "appeasement" wasn't quite as bad as we're so often told. More importantly to this moment: No one mistakes Zelensky and his soldier-like image for Chamberlain with his umbrella. Again, Zelensky and Ukraine have fought well; their resistance has been steadfast. Why not negotiate? Ukraine may win more at the negotiating table than it ever could on the battlefield, while sparing the lives of countless Ukrainian (and Russian) troops.
Third, another argument I've heard is that, if the war ends by negotiation, Putin and Russia will just reinvade after a period of rest and rearming. Anything is possible, but why would Putin relaunch a war that's already proven to be a quagmire? And won't Ukraine also use the time to rest and rearm, with plenty of help from the U.S. and NATO?
Wars don't have to end in total victory or total defeat. One side doesn't have to collapse in exhaustion or to flee ignominiously. Wars can be ended by negotiation if both parties are open to compromise. Temper tantrums at the negotiating table are better than more bullets and bombs and bodies.
Ukraine and Russia share a long border and a tempestuous history. They need to learn to live together, else they will surely die together, as they are now. Why not talk and choose life over more death?