W.J. Astore
Corporate Capture of Government, not Age, Is the Problem
In honor of Presidents' Day, let's look ahead to the 2024 presidential election.
Right now, Joe Biden and Donald Trump are the leading candidates of their respective parties for the 2024 election. Biden will be 82 if reelected; Trump will be 78. Are they simply too old to serve?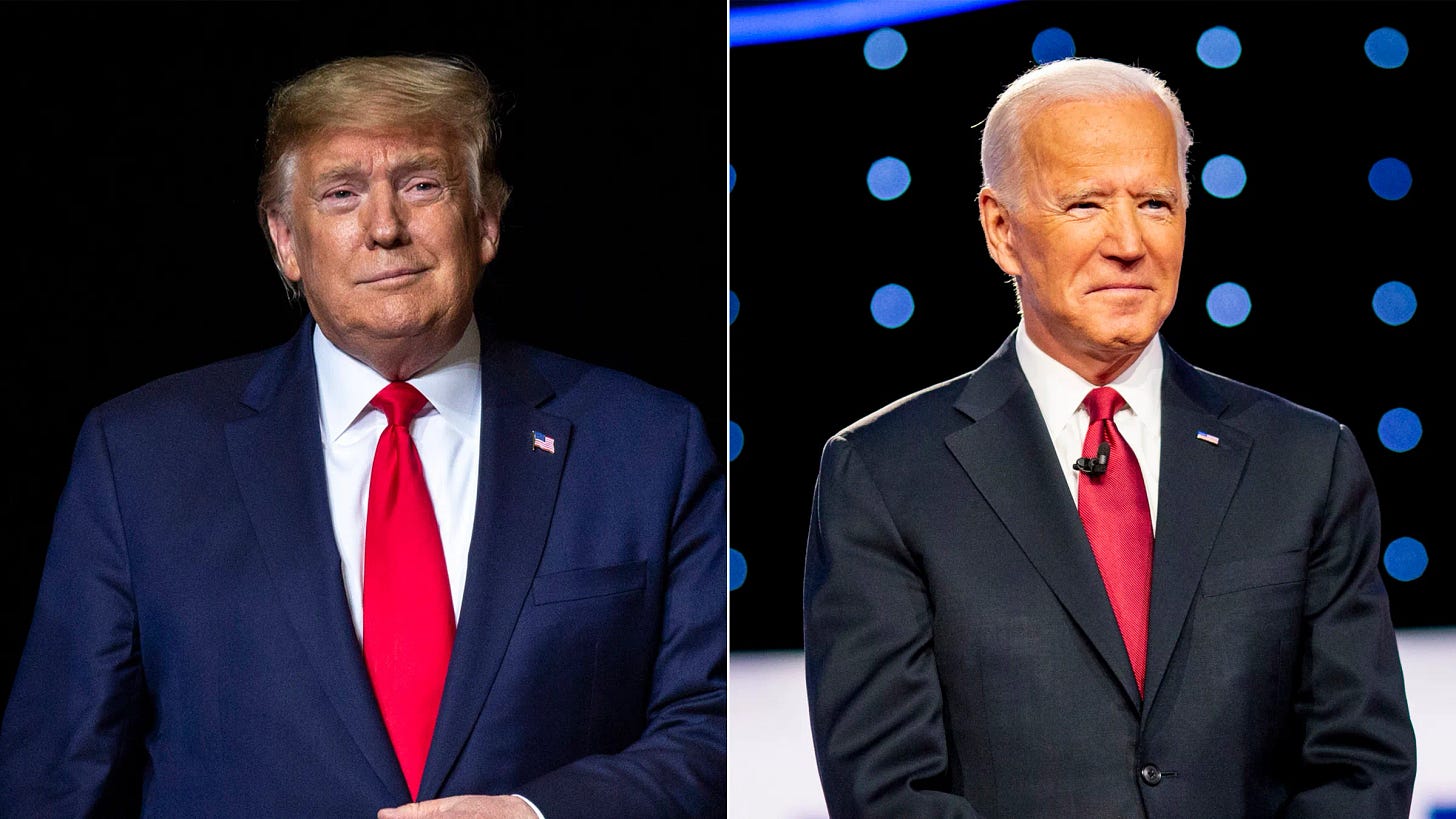 The short answer is "no." Sixty is allegedly the new forty, so I suppose eighty is the new sixty. Seriously, age alone isn't the issue. Many people are mentally alert and physically vigorous well into their eighties and beyond. But many people aren't; age does take its toll, we do age unequally, so it's best to take this case by case, person by person.
Trump's problem isn't that he's too old; he's simply too much of a con man and a narcissist. Even as a businessman, he was largely a loser. When you go bankrupt running casinos, where the odds are stacked in your favor, you truly are incompetent. Trump wants to be president again because he lost and hates to lose. He lacks a positive plan for America, which isn't surprising, as he has no empathy for others. He's not too old; he's just supremely focused on himself.
Biden isn't too old, in theory. But more so than Trump, he does appear to be in physical and cognitive decline. At the British Guardian, Margaret Sullivan wrote that:
"Of course, I wish Biden were 20 years younger; I wish he didn't stumble over his words and sometimes make inexplicable mistakes. I worry about his cognitive decline and physical frailty. But right now, he looks like the best bet to stave off a likely-disastrous Republican presidency and his record, while not flawless, is impressive."
Her argument is simple: Biden is the best bet to defeat Trump (or DeSantis), so ignore his faults and frailties. It's OK for a president to stumble over his words, to make inexplicable mistakes, even to exhibit signs of cognitive decline and physical frailty. Why? Because Democrats apparently have no other viable candidate to defeat the Republicans.
The willingness of the mainstream media and so many otherwise sensible people to dismiss obvious signs of Biden's decline inadvertently points to a larger truth: Biden, if reelected, won't be running the country anyway, so why worry about his physical and mental health?
As Chris Hedges and others have argued, America isn't a democracy. Presidents aren't public servants. America is an oligarchy, and presidents largely answer to the oligarchs. A corporate coup d'etat enacted over the last half-century ensures the real rulers of America are on Wall Street, in big finance, and with the national security state and similar powerful interests.
So, which figurehead do you want, Trump or Biden? That seems to be America's "choice" for 2024, making this Presidents' Day grimmer than it should be.
Show me a candidate who wants to fight against the corporate capture of the U.S. government, and I'll joyfully vote for that person irrespective of their age.
(A coda: Speaking of age, can you imagine two women the ages of Biden and Trump contesting for the presidency in America? I can't. They'd be dismissed by too many as "old hags," obviously well past their prime, as Republican presidential candidate Nikki Haley was recently described by CNN host Don Lemon, and Ms. Haley is only 51! Yet again, America has a "choice" between aging white men wearing red power ties, each with serious flaws. Democracy!)